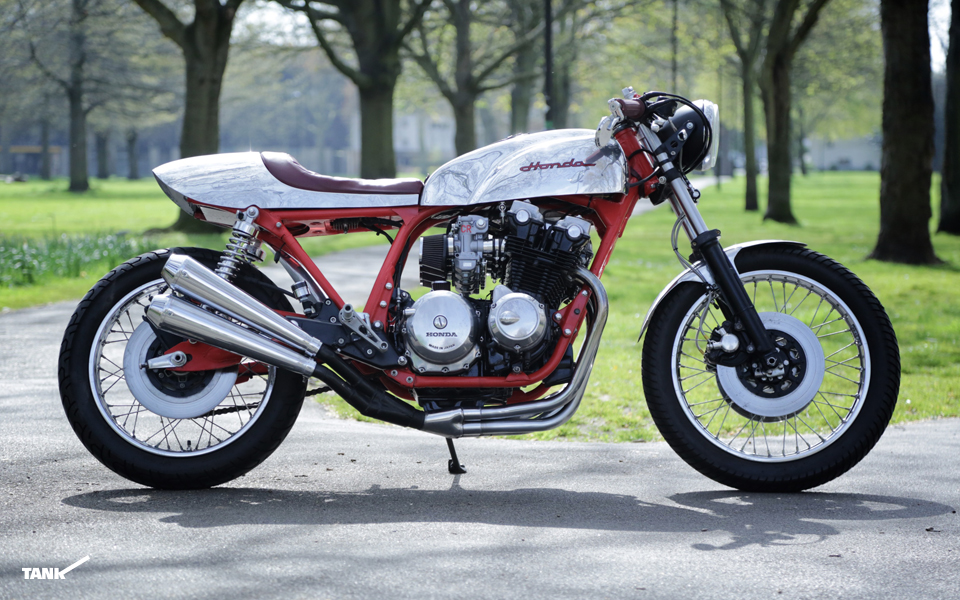 The intention of the build was to create a sixties Manx style café racer on a reliable donor. The donor is an '81 DOHC CB750.
Once sourced the donor was stripped, the airbox consigned to the bin, and every bit of plastic banished. The rear of the frame was chopped to accommodate a single seat race tail, the side panels and lugs removed, and the frame and swing arm powder coated.
The original mag wheels have been replaced with a rear 1978 K8 750, and the front with a heavily modified 1976 K6 CB750 with twin CB500T discs fitted. A new retro-styled Nissin hydraulic front brake master cylinder with a 5/8in piston has been fitted with braided hoses, to sharpen up the stopping capabilities.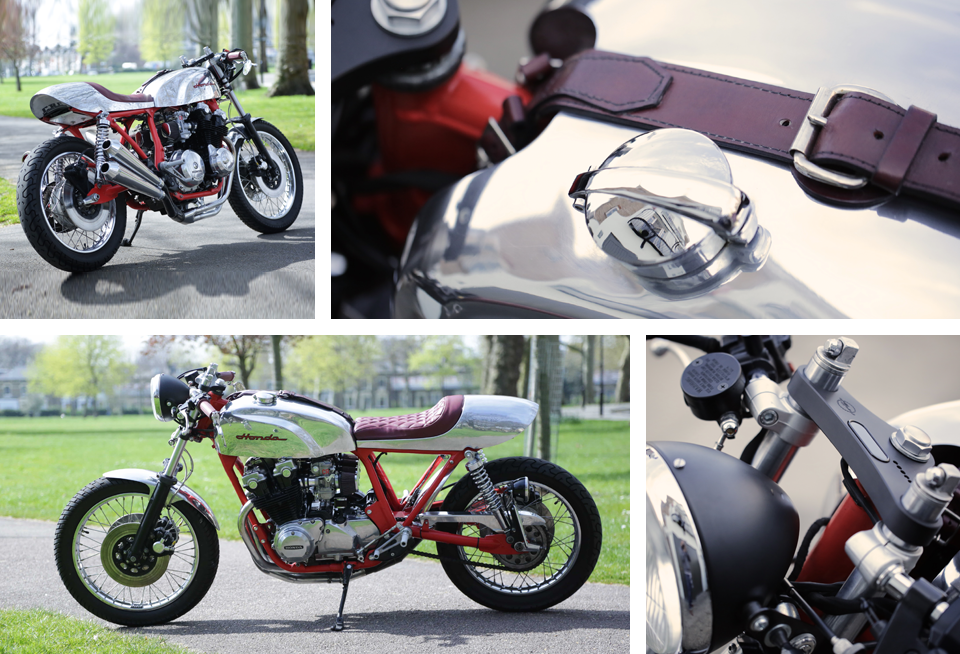 The front wheel is fitted to CB900 pneumatic forks that have been stripped and re-chromed, and bolstered with a Tarozzi fork brace. Tarozzi clip-ons have been added.
The top yoke has been removed and replaced with a bespoke Cognito Moto yoke with integrated digital Motogadget mini speedo. The ignition barrell has been relocated to the headlight mounting bracket.
The engine has been stripped and painted by Calum at DeBolex.
A single sided twin stacked set of short reverse cone silencers are fitted using a bespoke link pipe.
The Tarozzi rear sets are mounted to blasted and powder-coated hangers to give an aggressive but comfortable ride position. The number plate and rear light is mounted on a No School Choppers side plate.
The aluminium seat unit is a one off made by Will Allen (then of CRC) and upholstered by Stan Leather. The aluminium tank is bespoke, made by Singh Precision, and secured by a one-off tank strap by Stan Leather. The aluminium chain guard, rear and front fenders were fabricated to order.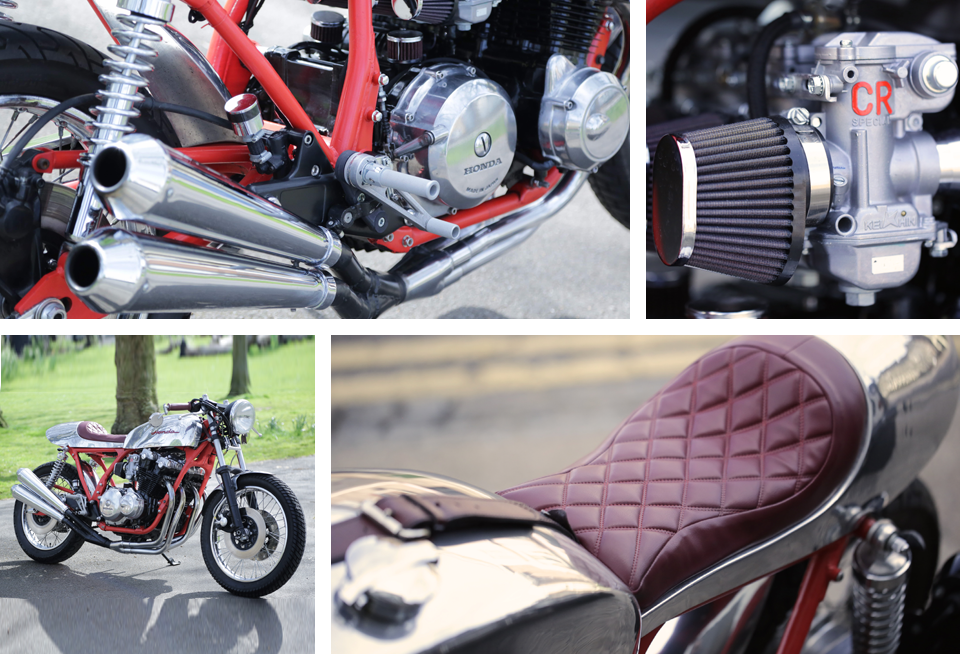 The stock carbs were replaced by a set of new 31mm Keihin CR racing carbs shoed with DP1824 filters.
The bike has been completely rewired with a bespoke wiring loom, incorporating a Dyna 2000 DDK1-5C Digital Performance Ignition with new coils, by Will Allen of London Motorcycle Wiring (formerly of CRC).
The bike was then set up on a Dynojet 250 Motorcycle Dyno at PDQ, ensuring a smooth delivery throughout the rev range and squeezing out a couple of extra BHP along the way, now delivering 67.38hp.
The bike was MOT'd and serviced in April when the cam chains were also adjusted. The bike has been maintained by CRC and DeBolex.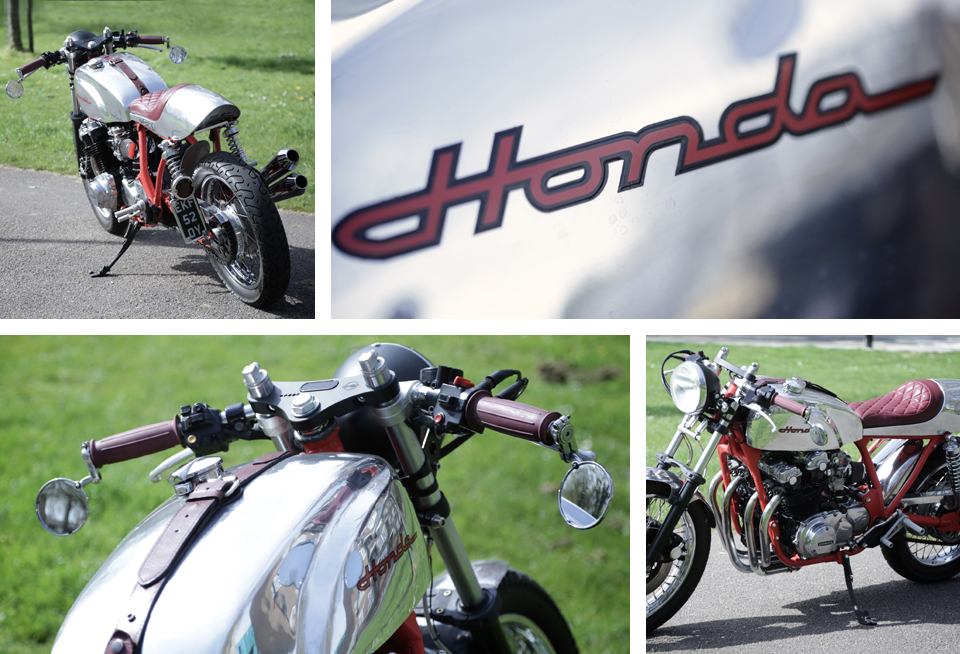 The current bike for sale is the result of nearly three years of continued work, tinkering and refining, and the result is a correctly built, reliable, well set-up custom bike that's rewardingly quick for a thirty-five year old machine. All the inevitable snagging of a custom build have been sorted.
Viewing welcomed. MOT until April 2017 and ready to ride.
The cost to build this bike far exceeds the asking price of £9,295 – call for more details +44 (0)7779 149771